I am pleased to announce that Mood Board v1.3 has been approved for release on the Mac App Store. Mood Board has been updated to fix a few bugs and version 1.3 adds some really great features if you're already a user.
The new find bar samples the colors in the document to provide you a quick hue-sorted method for filtering out just the assets you're interested in.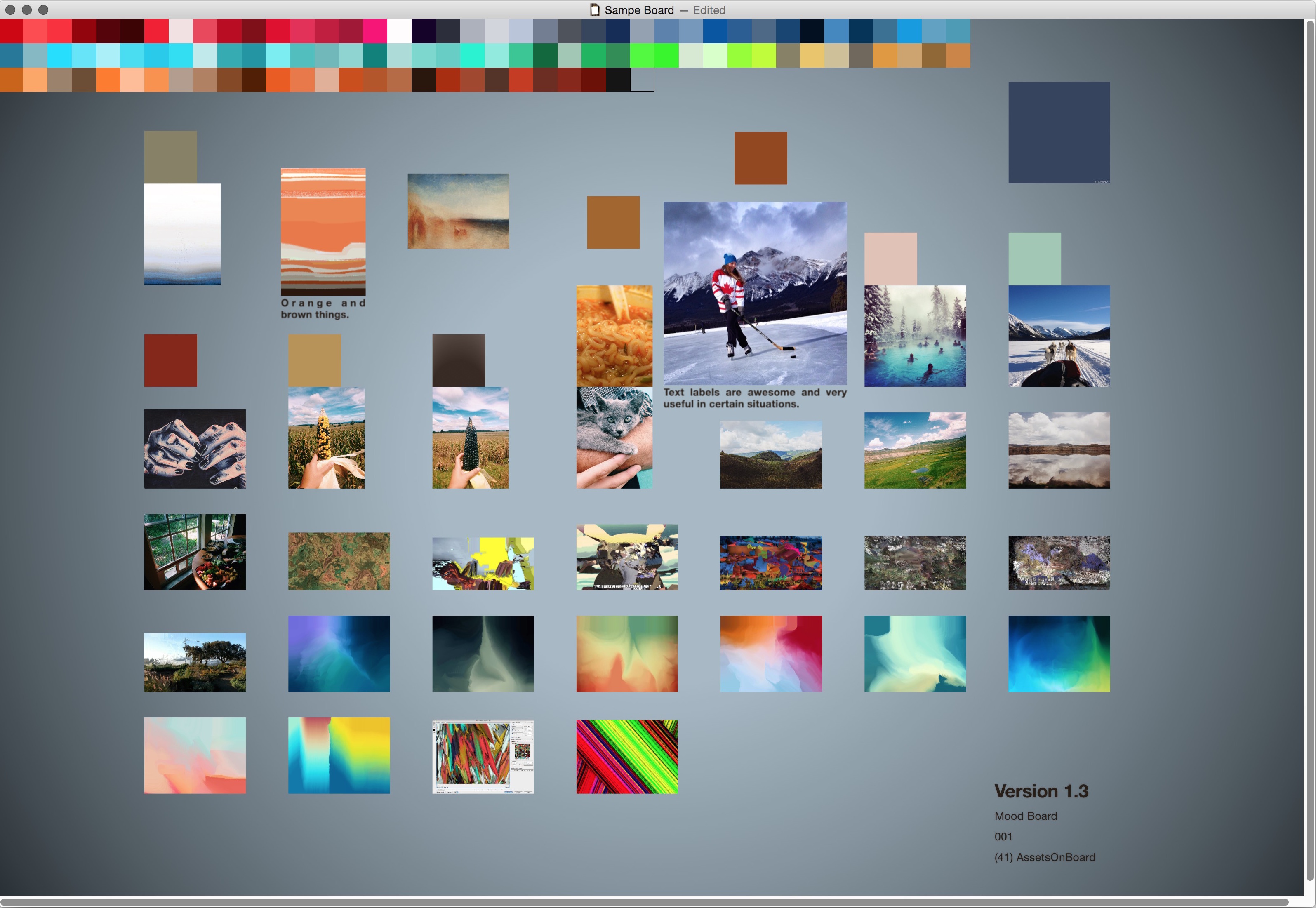 The new text-label feature converts your existing descriptions into text that appears beneath each asset helping to convey your message to other members of your projects.
The full feature addition list for Mood Board 1.3:
Version 1.3
Fixed CALayer transparency when rendering in to multiple subviews of the same content region.
Fixed overlapping transparency of some assets for same.
Implemented text overlays for asset descriptions.
Implemented clickable labels in edit panel to reset scalars to default values.
Vastly improved color detection for all text components on a board.
Implemented better inverse color handling.
Faster color averaging.
New "Swatches" palette in the edit popover contains a list of "uniqueish" colors in each asset.
Changed unique threshold to 5% variation in each independent channel which produces more colors per pass.
Clicking on a swatch in the palette inserts a new asset into the current board filled with that swatch color.
Command+F to open the new "Find" panel.
Click on swatches in the find panel to activate a focus mode for images that contain the colors you've selected. More instances of a single color in an image means greater opacity for that asset in the board.
Click on the clear swatch in the find panel to clear all selections and restore full asset opacity to the board.
Focus-mode opacity is applied after the opacity of the asset itself and so your options for opacity will always be respected.
Find out More
Doing visual arts on the Mac? Buy a copy of Mood Board
Check out some more information about Mood Board right here!